Titanium Flange Metal Insert Lock Nut
1. Flange Metal Insert Self Locking Nut.
2. Made from Grade 5 (6AL-4V) Titanium Alloy.
3. 42% lighter than steel, very corrosion resistant and very strong.
4. High toughness, Durable and extremely low wear
5. Available in Gold, Black, Burnt-Blue, Rainbow, etc.

Flange Metal Insert Lock Nut made from high quality Grade 5 titanium which offers extreme strength with the added benefit of extreme weight saving. Titanium provides excellent corrosion resistance, and it requires very little maintenance.
Titanium Metal Insert Lock Nut is a torque prevailing nut that uses a metal insert located towards the top of the nut, reducing its inner diameter, which then deforms over the mating thread. This captures the bolt or screw, providing a locking feature causing resistance or prevailing torque – keeping the nut locked in position and resistant to vibration. This design feature means that the screw threads do not cause damage to the insert, allowing the nut to be re-used.
Titanium Flange Metal Insert Lock Nut also offer an integral washer which serves to distribute the pressure of the Nut over the part being secured, reducing the chance of damage to the part and making it less likely to loosen as a result of an uneven fastening surface.
Titanium Flanged All Metal Lock Nuts are a good option where locking devices are required in high temperature applications.
Metric -Titanium Metal Insert Flange Self Locking Nuts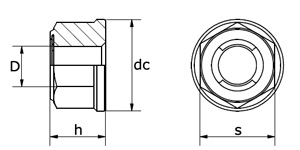 Nominal Diameter (D)

Pitch (P)

dc

h

s

nom.

nom.

nom.

M6

1

13mm

7mm

10mm

M8

1/1.25

17mm

8.5mm

12mm

M10

1/1.25/1.5

19mm

10mm

14mm

M12

1.25/1.5/1.75

24mm

12mm

17mm
Titanium Nuts Manufacturers and Suppliers DIN, ISO, ASME, ANSI. JIS.
Please contact us using the form below