Titanium Hexagon Nuts DIN 934
Titanium Fasteners - Bolts, Nuts & Screws
Available in metric and imperial sizes.
Excellent strength to weight ratio.
Practically inert to chloride, chlorines and seawater.
Titanium Hexagon Nuts are designed for use in fastening applications, and feature a hexagonal head for use with a standard spanner. Titanium fasteners are unique for their strength, light weight and corrosion resistance. They are critical to many industries, including chlor-alkali, marine, oil & gas, desalination, medical, and pulp and paper.
Grade 2 and Grade 5 are the most commonly used grades of titanium nuts:
• Grade 2 (UNS R50400 / 3.7035): Commercially pure titanium and the most common grade for screws.
• Grade 5 (UNS R56400 / 3.7165): Superior strength-to-weight ratio for a unique combination of corrosion and high strength.
We also can provide fasteners in Titanium grade 7, grade 10 and grade 23.
Hex Nut Sizes
• M2 – M100
• 1/4″ – 4″
Hex Nut Specifications
• DIN 439 / ISO 4035
• DIN 934 / ISO 4032
• ASME B18.2.2
• ASME B18.16.3
Made according to the major standards, unless specified by the buyer.
DIN 934, Titanium Hexagon Nuts Dimensions

Thread Size (d)
M2
(M2.3)
M2.5
(M2.6)
M3
(M3.5)
M4
M5
M6
(M7)
M8
M10
M12
(M14)
m
max.=nom.
1.6
1.8
2
2
2.4
2.8
3.2
4
5
5.5
6.5
8
10
11
min.
1.35
1.55
1.75
1.75
2.15
2.55
2.9
3.7
4.7
5.2
6.14
7.64
9.64
10.3
s
max.=nom.
4
4.5
5
5
5.5
6
7
8
10
11
13
17
19
22
min.
3.82
4.32
4.82
4.82
5.32
5.82
6.78
7.78
9.78
10.73
12.73
16.73
18.67
21.67
e
min.
4.32
4.88
5.45
5.45
6.01
6.58
7.66
8.79
11.05
12.12
14.38
18.9
21.1
24.49
Thread Size (d)
M16
(M18)
M20
(M22)
M24
(M27)
M30
(M33)
M36
(M39)
M42
(M45)
M48
(M52)
m
max.=nom.
13
15
16
18
19
22
24
26
29
31
34
36
38
42
min
12.3
14.3
14.9
16.9
17.7
20.7
22.7
24.7
27.4
29.4
32.4
34.4
36.4
40.4
s
max.=nom.
24
27
30
32
36
41
46
50
55
60
65
70
75
80
min.
23.67
26.16
29.16
31
35
40
45
49
53.8
58.8
63.1
68.1
73.1
78.1
e
min.
26.75
29.56
32.95
35.03
39.55
45.2
50.85
55.37
60.79
66.44
71.3
76.95
82.6
88.25
Thread Size (d)
M56
(M60)
M64
(M68)
M72
(M76)
M80
(M85)
M90
M100
M110
M125
M140
M160
m
max.=nom.
45
48
51
54
58
61
64
68
72
80
88
100
112
128
min.
43.4
46.4
49.1
52.1
56.1
59.1
62.1
66.1
70.1
78.1
85.8
97.8
109.8
125.5
s
max.=nom.
85
90
95
100
105
110
115
120
130
145
155
180
200
230
min.
82.8
87.8
92.8
97.8
102.8
107.8
112.8
117.8
127.5
142.5
152.5
177.5
195.4
225.4
e
min.
93.56
99.21
104.9
110.5
116.2
121.8
127.5
133.1
144.1
161
172.3
200.6
220.8
254.7
*
–
–
–
–
–
–
–
–
–
–
170
196
216
248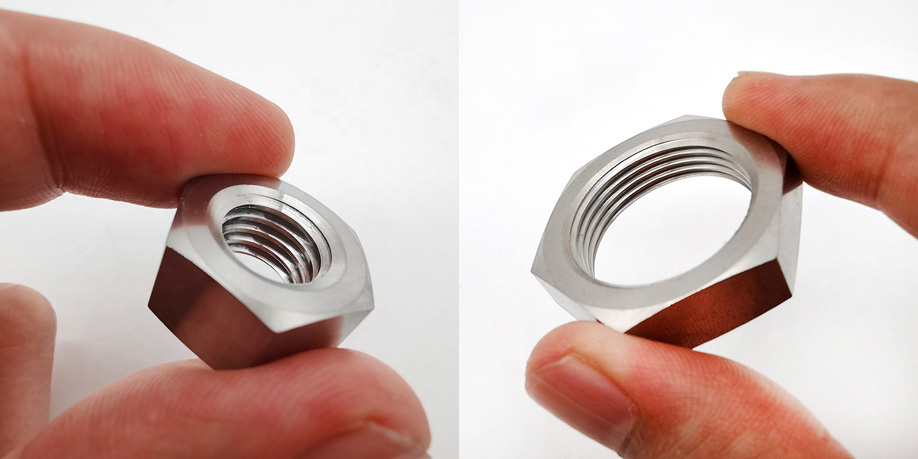 Please contact us using the form below