Titanium Threaded Rod
ASME B 18.31.1M, ASME B 18.31.2, DIN 975, DIN 976, etc.
Metric size Range from M2 upto M52
Imperial size Range from 1/4" upto 4"
Available in your requested size.
Fully resistant to chlorine dioxide, chlorides, hypochlorites and more.
Titanium thread rods, also known as threaded rods, fully threaded rods, continuously threaded rods, and redi-rods, are long rod fasteners that are threaded either along their whole length or just on set lengths at each end.
Titanium threaded rods come in various lengths and diameters, meaning their functionality covers a huge range of applications. These rods are very useful as they can be custom cut to length to suit your application
Standard titanium threaded rods in Inch sizes with diameters ranging from 1/4″ up to 4″ and Metric sizes M2 up to M52. Lengths range from 1 foot up to 12 feet and metric 1 meter up to 3 meters. For lengths below 12″ or 18″, please see threaded studs.
Titanium Threaded Rod Dimensions

Metric Titanium Threaded Rod Dimensions
| | | | | | | | | | | | | |
| --- | --- | --- | --- | --- | --- | --- | --- | --- | --- | --- | --- | --- |
| Thread dia. (d) | M2 | M3 | (M3.5) | M4 | M5 | M6 | M8 | M10 | M12 | (M14) | M16 | (M18) |
| Coarse  thread (P) | 0.4 | 0.5 | 0.6 | 0.7 | 0.8 | 1 | 1.25 | 1.5 | 1.75 | 2 | 2 | 2.5 |
| Fine thread (P) | / | / | / | / | / | / | 1 | 1.25 | 1.25 | 1.5 | 1.5 | 1.5 |
| Fine thread (P) | / | / | / | / | / | / | / | 1 | 1.5 | / | / | / |
| Thread dia. (d) | M20 | (M22) | M24 | (M27) | M30 | (M33) | M36 | (M39) | M42 | (M45) | M48 | (M52) |
| Coarse thread (P) | 2.5 | 2.5 | 3 | 3 | 3.5 | 3.5 | 4 | 4 | 4.5 | 4.5 | 5 | 5 |
| Fine thread (P) | 1.5 | 1.5 | 2 | 2 | 2 | 2 | 3 | 3 | 3 | 3 | 3 | 3 |
| Fine thread (P) | / | / | / | / | / | / | / | / | / | / | / | / |
Inch Titanium Threaded Rod Dimensions
  Thread dia.     (d)
 1/4
 1/3
 3/8
  7/16
 1/2
  9/16
 5/8
 3/4
 7/8
1
1 1/8
1 1/4
1 3/8
P
UNC
20
18
16
14
13
12
11
10
9
8
7
7
6
UNF
28
24
24
20
20
18
18
16
14
12
12
12
12
8UN
–
–
–
–
–
–
–
–
–
–
8
8
8
  Thread dia.     (d)
1 1/2
1 5/8
1 3/4
1 7/8
2
2 1/4
2 1/2
2 3/4
3
3 1/4
3 1/2
3 3/4
4
P
UNC
6
–
5
–
4 1/2
4 1/2
4
4
4
4
4
4
4
UNF
12
–
–
–
–
–
–
–
–
–
–
–
–
8UN
8
8
8
8
8
8
8
8
8
8
8
8
8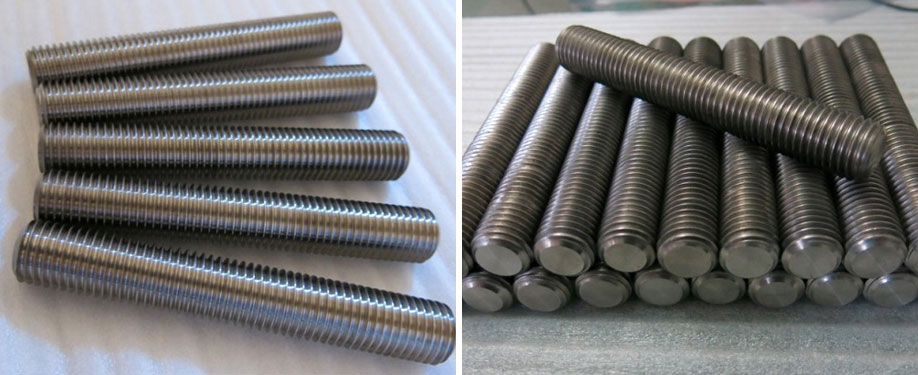 Please contact us using the form below