Titanium Hexagon Head Bolts DIN 933
Titanium Hex Bolts 
GR.2 GR.3 GR.5 GR.7 GR.10 Titanium.
Never rust, anti-acid and alkali corrosion.
Very strength yet lightweight.
Corrosion resistance.
OEM size and length.
Titanium Hexagon Bolts are regular hex head with externally threaded body, used with a nut or tapped hole. Hex head gives effective wrenching capabilities for bolting.
Titanium bolts have the advantage of corrosion resistance, light weight and high strength. With a density of 4.51 g/cm3. As compared with other metal bolts, the highest strength-to-weight ratio is possessed by titanium bolts. Titanium bolts are as strong as bolts made of stainless steel or mild steel. Titanium bolts are resistant to chlorate, chloride, chlorine dioxide, perchlorate and hypochlorite solutions. Titanium bolts can remain strong in the sea. Bolts made of titanium are resistant to corrosion by seawater.
Titanium hexagon head bolt dimensions are defined in both metric and imperials sizes
Metric Fully Threaded Hexagon Head Bolts
Metric Full Thread Hexagon Headed Bolts manufactured according to DIN 933, and are available in diameters ranging from M3 up to M48. Non-Standard sizes are available on request.
Imperial Fully Threaded Hexagon Head Bolts
Imperial Full Thread Hexagon Headed Bolts are available in a number of thread diameters, ranging from 1/4 inch up to 4 inch. These components are manufactured to ANSI/ASME B18.2.1. Additional sizes are also available on request.
DIN 933, Titanium Hexagon Head Bolts Dimensions

| | | | |
| --- | --- | --- | --- |
| d | k | e | s |
| M3 | 2 | 6.01 | 5 .5 |
| M4 | 2.8 | 7.66 | 7 |
| M5 | 3.5 | 8.79 | 8 |
| M6 | 4 | 11.05 | 10 |
| M8 | 5.3 | 14.38 | 13 |
| M10 | 6.4 | 18.9 | 17 |
| M12 | 7.5 | 21.1 | 19 |
| M14 | 8.8 | 24.49 | 22 |
| M16 | 10 | 26.75 | 24 |
| M18 | 11.5 | 30.14 | 27 |
| M20 | 12.5 | 33.53 | 30 |
| M22 | 14 | 35.72 | 32 |
| M24 | 15 | 39.98 | 36 |
| M27 | 17 | 45.2 | 41 |
| M30 | 18.7 | 50.85 | 46 |
| M33 | 21 | 55.37 | 50 |
| M36 | 22.5 | 60.79 | 55 |
| M42 | 26 | 71.3 | 65 |
| M48 | 30 | 82.6 | 75 |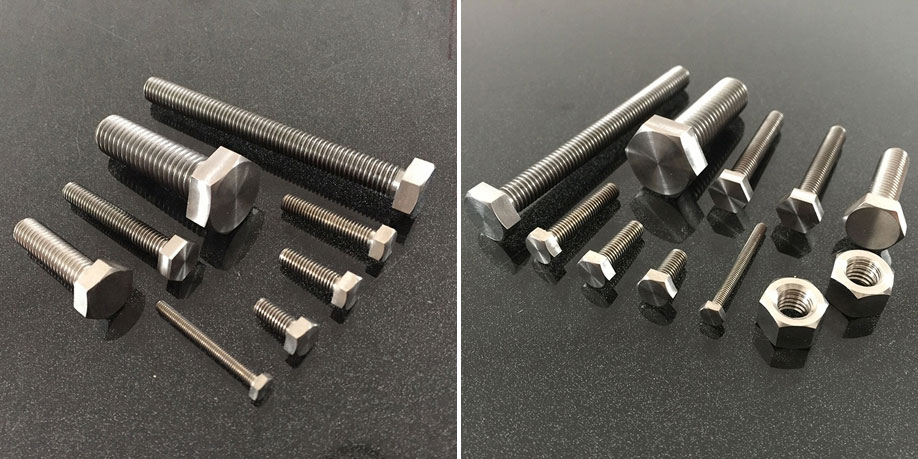 Please contact us using the form below