Titanium Water Bottle Cage Bolts
Titanium Bolts/Screws
Light weight, High strength
High performance, Corrosion-resistant
Not rust and Durability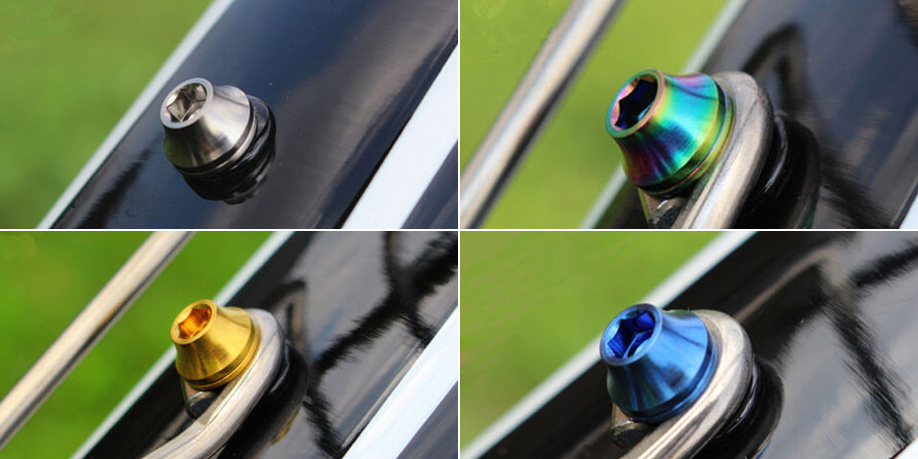 Aerospace materials, made of quality titanium alloy Grade 5 6al4v, well-made, lightweight, durable to use, these titanium water bottle cage bolts have gaskets to prevent the bottle cage from loosening due to vibration during riding.
Easy to install and convenient to use, great replacement accessories for your old worn screws.
Suitable for most bicycles water bottle holders, can also be applied in other places where M5 screw bolts are needed!
Product Description
M5 Titanium Water Bottle Cage Bolts
Material: Grade 5 Ti-6Al-4V(TC4) Titanium
Common Size: M5x10mm, M5x12mm, M5x15mm
Thread Diameter: 5mm(M5)
Thread Pitch: 0.8mm
Head Diameter: 10mm
Head Height: 5.2mm
Wrench Size: Use 4mm Allen Key
Head Type: Tapered Head, Cap Head, Button Head, Ultra-Low Profile, etc.(Support for custom)
Color: Black, Rainbow, Gold, Blue, Green, Purple, Burn blue, Silver, etc.
Application in sports: Mountain bike, Bicycle, Motorcycle, Automotive, Racing, etc.
Please contact us using the form below